Door Lock Repair - 4 Important Things About Commercial Locksmiths


When it comes time for door lock repair, commercial locksmiths have unique considerations and four things you need to know about it. You need your locks to be in order, especially if you run a business, have employees, or serve customers. Commercial door lock maintenance may be the most outstanding solution for this problem. But it's wise to know a little more before getting started.
Consider the following when choosing whether to have your commercial door lock fixed:
If you're only searching for the best commercial door lock repair in your area, Speedy Locksmith is the solution. We have all the equipment and knowledge needed to get your business building's locks back in working order. Please continue reading if you have any more questions!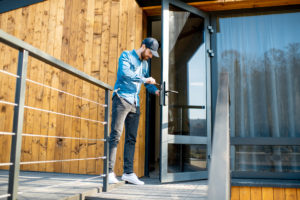 What causes commercial door locks to break?
The most typical reason for a commercial door lock to break is used over time. In rare cases, you may need to replace office security after a robbery. The regular opening, closing, locking, and unlocking motions are more likely to grind components together until they weaken or reshape.
Where can you get commercial lock replacement parts?
Most people prefer to purchase a lock at Home Depot for convenience and cost. However, buying commercial locks from the manufacturer or a partnered vendor is preferable because the hardware you need is rarely available in big-box stores owing to its price and being regarded as a specialty item (not something most people are searching for).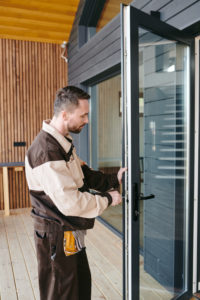 Who should I call if my commercial door lock is broken?
The most qualified and well-equipped company you can call on for commercial door lock repair is a Speedy locksmith. We'll be able to come directly to your location and fix doors on-site if you get in touch with mobile locksmith service.
Unlocking A Commercial Lock
To begin with, the door must be opened. If a problem with the lock makes it impossible to shut the door, this difficulty has already been addressed. However, matters will become more complex if a commercial lock has broken and caused a business lockout.
A lock that has been damaged may not always be opened with the key. That implies you won't be able to do it even if you know how to pick an office door lock because the keyway loophole will most likely not work. You'll have to think of other options for opening a stuck doorway.
Bypasses can be used to open a variety of commercial locks without having to touch the broken keyways. If the lock is too secure and catastrophically damaged, you may need to drill it open, which usually leads to replacement rather than repair.
The door can also be opened for additional service if it is locked. You may take advantage of expert knowledge about this procedure to get the best commercial door lock repair. A locksmith might also be able to utilize destructive entry without breaking the lock enough that it has to be replaced.
Determining What's Wrong
Every door has a frame, but the structure is what holds everything together. Without an accurate diagnosis of the problem, you won't be able to do anything about it. If you're unfamiliar with basic lock mechanics or the inner workings of your commercial lock, this might be rather challenging.
Electronic locks, in particular, can be challenging to figure out. When you start dealing with electrical systems, door locks may become quite sophisticated. You should seek a specialist rather than attempting to troubleshoot the problem yourself once electrical systems are involved.
Scanners and touch monitors for fingerprint door locks may go out of calibration. There may also be software issues or energy problems distinct from the usual mechanical breaks afflicting most broken locks.
It might be caused by anything else, including a door strike plate adjustment. There's also the danger of operator error. So if you're trying to figure out what's wrong, you may discover that it isn't the lock.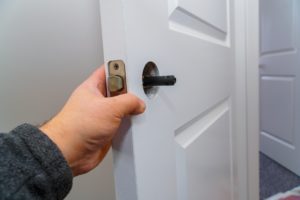 Commercial Door Lock Maintenance
What exactly does the term commercial door lock repair imply to you? It's a method of upgrading an existing lock from a state of non-functionality to an entire operation without buying a new wave. This might be as straightforward as lubricating the door locks or swapping several internal parts.
With a bit of lubrication, debris or rust that causes tighter tolerances may be removed. To thoroughly remove whatever necessitated commercial door lock repair, you should still clean the lock. Replacement parts for tiny broken pieces are readily available.
You can usually avoid something like a mortise lock upgrade since this commercial lock is designed to be serviced more efficiently. Because the safety is modular, you can change the cylinder and swap latches and springs.
Cost and convenience are two of the most significant reasons to repair a lock rather than replace it. Replacement of high-security door locks may cost hundreds of dollars and need master key services (which also creates inconvenience).
Replacing Commercial Door Locks
When does a minor repair turn into a significant commercial door lock replacement? Is it possible that enough door lock maintenance over time might eventually result in reserve, but only if you perform all of it at once to solve a specific problem?
On the other hand, commercial lock replacement refers to replacing the full lock at once. The procedure is straightforward. First, you must remove the old lock (which requires the door to be open somewhat). Commercial lock installation follows next.
It must be installed carefully to ensure that the new lock works and isn't breaking building codes or jeopardizing your security. The selection between fail-secure locks and fail-safe locks, for example, affects whether a door may serve as an emergency exit.
If you wish to replace a damaged lock for the same type and brand, there's no need to hesitate. With this assurance, you gain some peace of mind, but you forfeit the chance of improving your security. However, it is an acceptable exchange if you are satisfied with your level of protection and physical access control.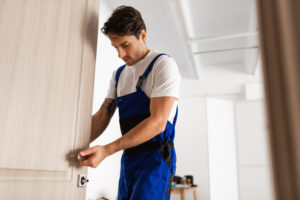 Conclusion:
Maintaining your commercial door locks is essential to keep them functioning correctly. Lubrication, replacement of broken parts, and careful installation of new locks are all effective lock maintenance. In some cases, a complete replacement of the coil may be necessary. When deciding whether to repair or replace a lock, consider the cost and convenience of each option.
To learn more about Speedy Locksmith, visit our website or click here.
Get a FREE onsite estimate
Or Call Us For Emergency AppointMeNT
Average star rating for Speedy Locksmith's service is 5 star
Speedy Locksmith in numbers
© 2021 Speedy locksmith All rights Reserved.