Reasons Why Steel Doors and Smart Locks Are Better For Security


Thinking about improving your home security with steel doors and smart locks? Here are five reasons why you should make that investment.
Steel doors are much more durable than other types of doors, making them more resistant to break-ins.
Smart locks can be controlled remotely, so you can easily unlock your door no matter where you are.
Steel doors and intelligent locks provide greater security for your home or business.
Steel doors are less likely to warp or sag over time and will also hold up better in inclement weather.
Smart locks can be programmed to allow access only to certain people, making them more secure than traditional locks.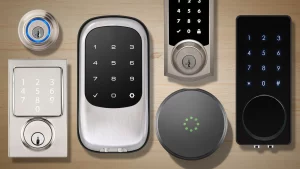 Smart locks with the latest technology:
Consider intelligent locks for your house if you're thinking about purchasing a replacement door lock for your home. The development of security technology in recent years has made it easier to keep your home secure. This is made possible by the invention of intelligent door locks, which have specific characteristics. We'll show you why modern locking technology is necessary for this article. Here are some compelling reasons to invest in smart home locks.
Compatible with a Smartphone
Smart locks that work in conjunction with your smart devices are known as friendly locking systems. As a result, you don't have to worry about misplaced house keys anymore. Alternatively, you know how difficult it is to locate your keys when buried somewhere. This is especially true when you have several items packed in your handbag or if your bag has many compartments and it's challenging to remember which one contains the keys.
If you buy smart home door locks, these issues may be a thing of the past. With smart locks, you only need to pair the deadbolt via Bluetooth, making it simpler to access the area without using traditional keys. Contact a professional locksmith in your region to learn about the several smart lock choices available on the market.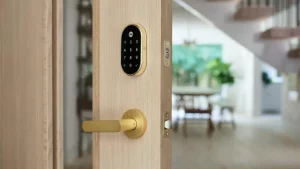 E-keys may be sent by email
Are you in the office while your relative awaits on your home's balcony? Some electronic keys may be shared electronically. As a result, you won't have to worry about someone having to wait for you to arrive home so they can let them inside. You may send E-keys from anywhere on the planet using any device. This feature is helpful in a variety of situations, such as:
You might want to consider renting your property out when you're on vacation.
When you are away, deliveries must be kept within the home to ensure safety.
Allow a family member to come in and allow them to unwind while you're away.
Improved security
Intelligent home locks give superior security levels. You may program the smart locks to automatically lock after you exit or reach a certain distance from the house. All you need is a connection on your smartphone with this function. Furthermore, sophisticated skills are required to pick these locks. As a result, they will keep you safe from theft.
It has a modern aesthetic
You express you belong to the current generation with a smart lock on your house door. You're no longer using conventional deadbolts. As a result, intelligent locks are ideal for individuals who want to seem modern.
if you want to learn more about Speedy Locksmith, please visit our website or click here.
Smart Locks help to raise the worth of your home.
Is your house being renovated in preparation for a sale? Consider adding intelligent locks to increase the value of your home. Smart locks are an excellent method to enhance property value. This is owing to added convenience and improved security levels. It's now or never to invest in innovative door-locking technology.
Steel Doors' Advantages:
Our objective at Speedy Locksmith is to assist you in keeping your property or business safe, and we do that by providing various goods and services. One of those items is our high-quality steel doors. We'll go through five of the advantages our steel doors may provide in this post to assist you with your decision.
1.   Durability
Steel is one of the most durable and long-lasting materials available, making it an excellent door choice. Steel doors will not expand or contract due to changes in humidity, nor will they decay or be eaten by insects.
2.   Noise Reduction
Another benefit of steel doors is that they successfully muffle street noise. A steel door might be the answer you're searching for if you want to minimize the amount of street noise you have to deal with.
3.   Ease of Maintenance
Garage doors that have glass are also simple to maintain. They don't bow, so they will always fit properly in their frames and won't need to be replaced because parts have bent out of shape.
4.   Customization
Steel doors are gaining in popularity among both commercial and residential buildings. While many companies already employ them, more and more homeowners are adopting them as well. Steel doors may be customized to appear precisely how you want, and you can easily integrate them into the architectural style of your house without issue.
5.   Security
The most significant advantage of steel doors is their greater security. Steel is virtually immune to attempted entry because it is so robust. Wood, for example, may be effortlessly broken into with the aid of a sledgehammer, but even the most powerful strikes cannot dent steel.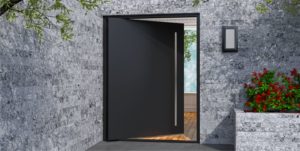 Conclusion:
There are several reasons to consider obtaining a steel door for your home or business. They are durable, offer sound noise reduction, and are easy to maintain. Additionally, they can be customized to match your existing architecture, and most importantly, they provide superior security. If you're looking for a high-quality door that will offer all of these benefits and more, contact us at Speedy Locksmith today. 
if you want to learn more about Speedy Locksmith, please visit our website or click here.
Get a FREE onsite estimate
Or Call Us For Emergency AppointMeNT
Average star rating for Speedy Locksmith's service is 5 star
Speedy Locksmith in numbers
© 2021 Speedy locksmith All rights Reserved.